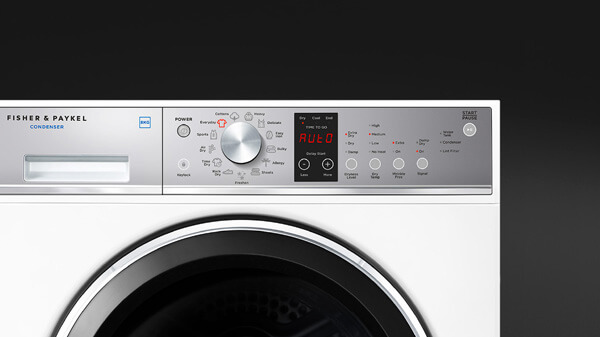 Condensing
When external venting is not an option, a Condensing dryer is an excellent choice. Plumbed-in or captured in a reservoir, Fisher & Paykel Condensing Dryers provide optimal performance with flexibility of placement within the home.
View Condensing Dryers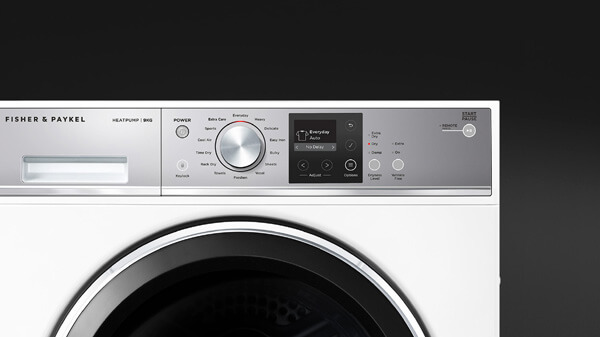 Heat Pump
Using a highly efficient heat exchange system, Heat Pump dryers operate at a lower temperature to conserve energy while offering the best care for all fabric types.
View Heat Pump Dryers
Free Your Laundry
Configure and design your laundry to suit your home, with Fisher & Paykel Heat Pump dryers that capture moisture without the need to vent.
Explore Heat Pump Dryers
A Lifetime Of Care
Home appliances are built to stand the test of time and, because of that, we want to know that they will continue to respect the environment for years to come.
We know that the greatest energy impact of laundry appliances over their lifecycle comes during use in the home.
To counter this, we focus our world-renowned engineering and simulation tools toward evaluating and fine tuning all our appliances to get the greatest efficiency before they are taken from prototype to final solution.
It is the small improvements that can lead to the biggest change.
Care In Every Detail
We believe great appliance design plays a vital role in delivering the best outcomes for your clothing and for the environment. Perfect results in the laundry are those that give the best care for your garments while reducing our impact on the world around us. These values are brought to life in every Fisher & Paykel laundry appliance through our focus on human-centred design.
Energy Efficiency
Fisher & Paykel uses heat pump technology to provide the optimal dry at low temperatures. Select the top of the range Heat Pump Condensing Dry for an appliance boasting an eight-star energy rating.
Healthier Drying
Heat pump and condensing technologies remove water from the dryer into a tank or drain. This reduces moisture and allergens released into your home when compared with a front venting dryer. A healthier choice for allergy sufferers.
Designed To Match
Rigorous testing across a wide range of fabric and garment types informs the settings of our drying cycles. Each is customised to best suit the needs of specific fibres and materials, and designed to be used with the matching washing cycle of Fisher & Paykel washing machines.
Education Leading Innovation
Designing the best technologies for an exceptional dry does not start in the workshop. It starts in the wardrobe.
It is because we deeply understand fabrics that we are able to create the perfect profile for optimal care.
We understand that jeans fit best when given an extra dry finish. We know that low temperature and slight residual moisture helps woollens retain their natural oils and soft feel.
It is this expertise over generations that our world-renowned dryer technologies are predicated on. A fundamental understanding of different fabrics and how best to care for them.
Auto-Sensing Tech
Auto-sensing technology cleverly senses the moisture level within the drum, stopping the cycle at the right moment to prevent your clothes from under or over drying. This means clothing lasts longer and the appliance only uses as much electricity as needed.
Fabric Care Cycles
Easy to use, with an abundance of options. Select from up to 18 dry cycles on the intuitive LCD display to dry everything from delicate lace to hard-wearing high performance fabrics.
Delicate Drying
Not all items that require drying benefit from a tumbling action. A custom-built dryer rack places your precious possessions such as sneakers, hats and soft toys at the centre of the drum for gentler drying.